Recently popular burger company Velvet Burger had their Facebook page deleted without warning.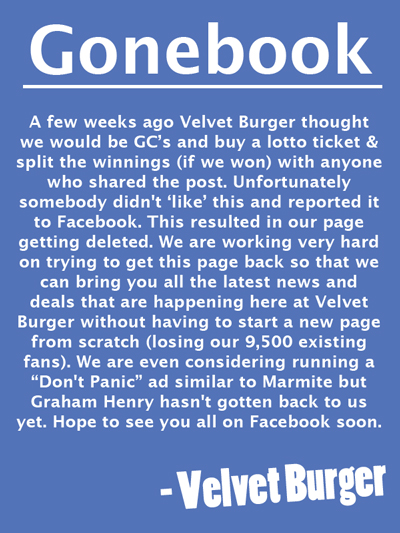 Facebook have quietly updated their page terms, and if you have a brand page, you're bound by them. Here's some of the more unexpected ones, or ones we know people have had pages, posts or images removed for:
Your page name can't be in capitals – except for acronyms.
Your page name can't include "superfluous descriptions".
Your cover can't have price or purchase information, can't have contact information like a website, can't have calls to action like "tell your friends"
You can't encourage your fans to use your cover image on their personal timelines.
Competitions can't be done by commenting, sharing or uploading to your wall. (see Velvet Burger…), but MUST be done via an application tab.
Pages must not contain content that is hateful, threatening, defamatory, pornographic, incites violence or contains nudity.
The best thing you can do is read the rules. Check to see if they've been updated at least once a month, and don't try to be sneaky and cheat your way around them – all it takes is one complaint and your page could be goneburger.