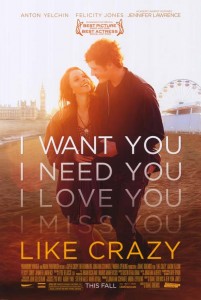 Last night I had a chance to see Like Crazy – a love story that is both surprising and honest.
It follows young lovers, British Anna (Felicity Jones, Brideshead Revisited, Chalet Girl) and American Jacob (Anton Yelchin, Hearts in Atlantis, Star Trek), as they negotiate an intercontinental romance. Alex Kingston, known best for her role in ER, also gets a nice outing in this film.
Set on a backdrop of beautiful cinematography, their love story slowly grows from initial long looks into a much deeper connection. I found myself both rooting for and frustrated by the characters. I needed to know how this one ended, and I wanted it to be a happy one. Was it? You'll just have to watch.
The film has picked up a few awards, most notably the Grand Jury Prize at Sundance, and a Special Jury nod to Jones for her acting.
Like Crazy will be in New Zealand cinemas from February 2.
Watch the trailer