I wrote this two years ago, as the Tweets of the Month from the month of That Quake – and as posterous, where it was hosted, is closing down, I thought it should be kept.
February 2011: There's something wonderful about the Kiwi spirit. We're opinionated, bulshy, and have awesome senses of humour. And given the terrible events of the last week, that sense of humour has done us proud.
Here's to you, New Zealand, you funny, amazing people.
nasstkVEVO I'd like to personally thank the U.S for sending 960 Portaloos to Christchurch. When things turn to shit, we know we can count on you
Tarquin_Death The bottle of 'earthquake vodka' is getting low. Almost time to open the earthquake rum! Not sure the earthquake is a good influence on me.
securitygalnz No power/water = no bathroom cleaning, washing, ironing, vacuuming, car cleaning or mowing lawns = silver lining to #eqnz
Kiwi05 Only in NZ would the mayor describe the broken sewage system as "seriously munted"
harvestbird The dogs assembled around me and the bush toilet at dawn, as if to say, we knew you'd join us out here one day.
richirvine Everyone, make sure you hug + kiss your partners and kids tonight. Not your flatmates though, that leads to dark places.
brianedwardsmed Just heard – from total stranger on Twitter – that my daughter and family are ok. He went round to her house for me . Kindness in bad times. 
JohnJCampbell Dear Christchurch, and all who love that city, what can any of us say, except we're carrying you in our hearts.
NZTopModelColin As always, be considerate of someone more vulnerable than yourself. Strength is multiplied when the burden is shared.
LitaNZ We are all family, no matter where we come from and our backgrounds. WE WILL get through this. WE WILL stand as a nation again!
nathanknz These shakes just keep coming. Every time I feel one I can't help but think what it must be like for those amongst the rubble.
 benkepes Hope. Pure and simple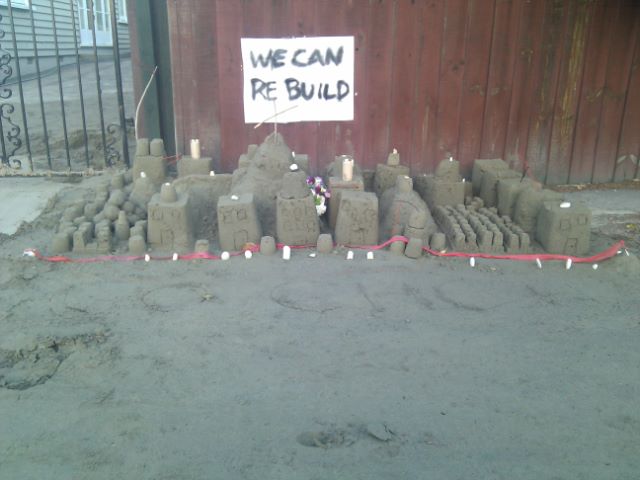 This person (a complete stranger to me) responded to a tweet of mine. I was trying to locate the mother of a friend in the UK. She actually went round to his mum's house and then tweeted me that she was fine. You can imagine the relief of her son after waiting over 24 hours and hearing nothing. Just awesome. – Marg