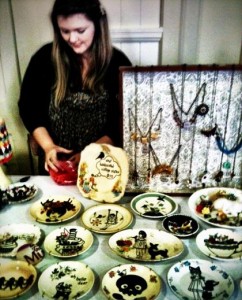 OddOneOut (a.k.a. Niki) is into upcycling vintage plates – amongst other crafty endeavours – and as soon as I stopped by her stall at a local craft fair, I knew I was in trouble. Her designs are gorgeous.
After taking some time out from her job as a textile designer to have a baby, Niki decided to revisit some of her old ideas and passions, and get creative.
"I realized that I absolutely have to be doing something creative or I'm just not that happy," she wrote on her Felt profile.
"I began to go through some notebooks from my student days and rework some of my ideas."
And boy, did Niki have some great ideas.
In amongst the beautifully graffitied teapots and somewhat kitsch photoframes, were plates.
Floral plates with deer, floral plates with skulls, floral plates with a picture of a fist sporting "cake" tattooed across the knuckles – this was my idea of art. I got three that day, with plans to add to my collection as new designs – and finances – allow.
You can check out OddOneOut's Felt store, or catch her around crafty corners of Auckland.
And if you're looking for a gift for your friend Cate, look no further.