So you have a branded social media account, and you're following the first rule of social: Don't be a dick. Good, but now what?
There's lots of advice floating around about what content works well on which platforms – making sure your Facebook status is "likeable", joining in on a Twitter conversation, hashtagging your Instagrams up the ying – but for me, it boils down to this wee venn diagram: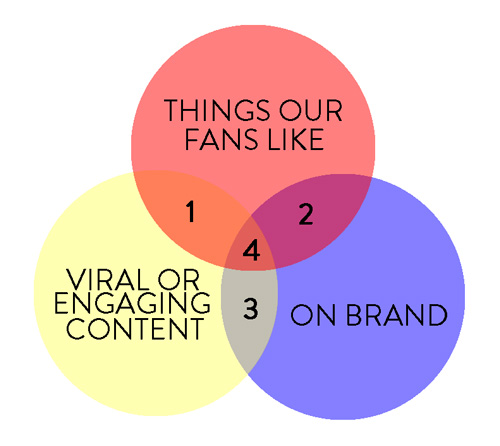 The red circle is about finding out what your audience likes – seems straightforward, but are you sure you know what they like, and not what you think they like? What is it about your audience that is unique?
The blue circle is about being on brand. It's about promotions and marketing. It's about the look and feel of updates. It's about getting the core message of your company across.
The yellow circle is about what works best online. What topics are going off at the moment? Where is the conversation – what is it about? What are today's memes?
A lot of companies stay in one content type. They may even cross over with another circle, but spend a lot of time delivering one sort of update, to the detriment of the community or their brand. Your brand should never just live in one of those circles. If your marketing push doesn't exist for the community, it's not right for social. If your viral content is totally off brand, you're wasting your time.
Doing updates from sections 1, 2, or 3 is a slightly better option.
Living in section 1 means the content they're using is engaging, and their fans like it, but it doesn't reflect the brand. Generic status updates like this are fine, but often your brand can get lost, or there may even be a conflict between the values of your brand, and the content you're posting.
Section 2 is where you've found the niche in terms of what works for your brand, and your audience, but the content isn't necessarily viral. This is a good place to be in terms of brand hygiene, but not so much in terms of outreach, and fan endorsement.
If your updates are in section 3, you're producing on-brand content that ticks the box in terms of being viral or engaging in nature, but that doesn't resonate with your fans. It could be that you're using the meme too late (remember all those brands that put out Harlem Shake videos the week after everyone declared it dead? Yeah, that.)
The golden space is section 4. You've found content that fits with your brand, your audience loves it, and it's positioned well to go off. And it does! Well done, you. Hope your boss recognises how hard it is to find that sweet spot!
So… How did that happen?
You know your brand – it has a clear voice and take on the world, and you've stamped it onto your update.

You've identified what it is about your brand that your fans love and delivered it to them.
You've reflected the sentiment of your community in a timely manner, or rarked them up in a good way.
The community can take ownership – you just got the ball rolling!
Yes, it's simplistic, but it works.