It feels like I discover useful and fun stuff all the time, so I've started a new feature – the stuff I'm digging each month. It could be movies or books; music or a new gadget; an app or some miracle make up. So here's the inaugural edition!
Wet Wipes
An oldie but a goodie. You don't need to shell out $10 for 30 make up remover wipes: Baby wipes are about 80 for $3. I keep a couple packets around the house, one in the car, and a small packet in my handbag. They demolish spills, cool you down, clean your hands in a pinch, and get rid of stray makeup.
This gif
USB plug for your car
I picked one up for $8.99 at a service station and I haven't looked back. Now I can charge my phone/kindle/friends phone on the go. It just fits in to your lighter/electrical point, and charges pretty quickly. If you see one of these for sale somewhere, grab it! In the same vein, if you have a chance to buy a solar powered USB charger, don't even think twice, just buy that thing. My friend's one saved me this summer.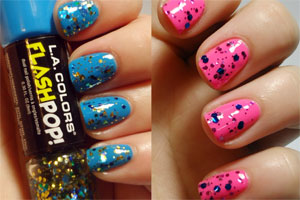 L.A. Colors FlashPop
How can something that is $3 from The Warehouse be any good? Well, I don't know how, but this nail polish is a bit of fun and actually decent.
This double-ended… thing… has the base colour at one end and a sparkly overlay on the other. Unless you're like me – I painted four nails on each hand the base and used the sparkles for just one finger.
For a proper review – and where I ripped this images from, check out Breezy's blog.
Linden Leaves Lip Balm
This balm has organic white tea, almond oil and manuka honey. It's super-moisturising without being sticky, and isn't tinted or shiny. Aaaand it is NZ made! Love love love! I won this from a raffle at the RSA at Christmastime (thanks, nana!) and I know it's going to become a staple.
Beyonce – XO
The song of the summer, I reckon.
Great Barrier Island.
Read my post on the awesome Great Barrier.
If you've got any suggestions for things I should try, leave me a comment!