Over new years I was lucky enough to go to Great Barrier Island, New Zealand's fourth largest island, sitting in the outer Hauraki Gulf. I'd heard a little about it – that it was "off the grid" and "rustic" – but didn't really have any expectations.
The place is gorgeous, unspoiled, vast and varied. The locals are super-friendly and the beaches are easily some of the best in the country.
If you like Waiheke, but wish there were fewer people, and more scenery, Great Barrier should be your next destination, for sure.
My top tips for the island:
Getting there: You can catch a ferry or fly, both priced around $120 one way. The car ferry, which takes walk-on passengers too, takes about four and a half hours. You can get a commuter ferry which only takes two. Do that, if you can. Also note that taxi drivers have no idea where the Sealink terminal is at North Wharf. The ferry dumps you out on the south-east tip of the island and you'll need some way of getting to wherever you're staying. We rented a car.
Travel: Renting a car is best. There were quite a few hitchhikers, the roads were designed by drunk circus clowns, and our lodge had a bus, but we were grateful to have our own ride. By the way, petrol is $3.30 a litre.
Eating: Food is really expensive over there, so take your own or budget extra. Bread was $6+ per loaf, and an iceblock can set you back $4. A meal out – a main and a beer – cost $45, and it wasn't fancy. Yeoch. You can drink water from the tap, but it tastes a bit funny.
Swimming: The west coast is lovely for a relaxing dip. My favourite was Puriri Bay in Tryphena Harbour – it was awesome. The east coast beaches are a bit wilder and great for surfers, especially the Medlands. Remember to take your sunscreen and plenty of water to drink! There are hot springs in the middle of the island, it's about a 40 minute walk in the bush to get to them.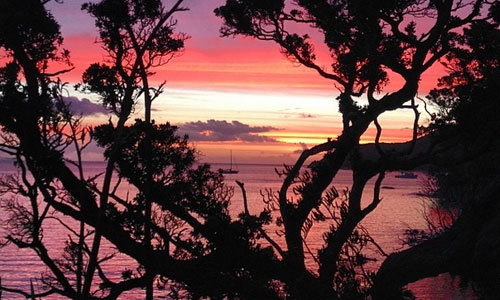 Snorkling: Borrow or buy a cheap set and just get out there. The water on the west coast of the island is crystal clear and very calm. It's just lovely. I wish I had done this.
Eco-island stuff: Most places run off generators or batteries, and they go on and off. Take a solar powered charger with you, and make sure your kindle is fully-charged before you leave home. Most places have tank water, so don't expect long hot showers, and if you're afraid of longdrops, Great Barrier is not the place for you. Most places have eftpos, but take cash with you.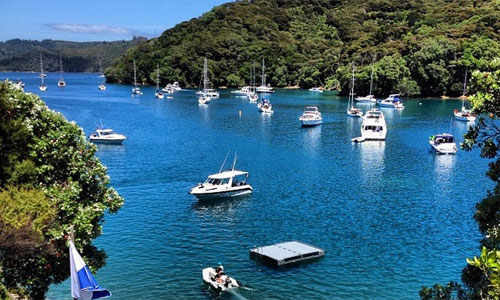 Internet access: I was on Telecom and used 3G the whole time. The only place it was patchy was Port FitzRoy, but the locals tell me it's because Telecom don't put gas in their generator. Apparently Vodafone works fine.
I'd highly recommend Great Barrier Island for a getaway. I'll be going back!