Here's some things I'm loving this month!
Maincare Moisturising Nail Polish Remover Pads
I wrote about nail polish last month, and this month I'm writing about getting it off. I found these Manicare Moisturising Nail Polish Remover Pads in a pharmacy and I am sold for life!
They're perfect for travel, and the coconut smell is a huge win over the traditional pink acetone.
While a little more expensive than the more traditional methods, at $4.99 for 32, they're well worth the investment for the convenience. One wipe will do both feet or both hands in a couple of minutes. No more spilling acetone all over the furniture, these things are my new best friend.
This Kanye gif
Rose & Thorne lingerie
Here's to good-fitting, well-priced, NZ designed bras and knickers!
With a wide range of sizes (10A – 20G), cute designs and free delivery in NZ, I've been enjoying R&T a lot since I discovered them a few months ago. The company is 100% employee-owned, they create new designs around customer feedback, and they're doing nice things on social media, too.
Nice Cream
Nice Cream is pricey, but as far as dairy-free* icecream goes: It is the business. Like Rose & Thorne, Nice Cream's producer Tommy & James is a Kiwi company. Vanilla Bean is my favourite – there's just the right balance between the coconut cream base and the vanilla. Mango is also a goer.
*and soy free. And gluten free. And vegan.
Deleting Candy Crush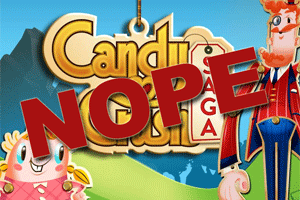 I recently deleted Candy Crush and that was an awesome decision.
Willy Moon: Here's Willy Moon
I heard Willy play live during X Factor NZ and really liked him, but never bothered to listen to his album. Big mistake. You've probably heard his track Yeah Yeah, but the whole album is full of 1950s infused rock pop running samples that sound vaguely hip hop. I swear half of them sound like Kanye had a baby with James Dean. Or, what I think that would sound like.
Here's an example – Railway Track samples The ARC Choir's Walk With Me, which Kanye used on Jesus Walks.
Here's the ARC Choir
And classic Kanye
I know I'm really late to this party, but Kiwi kid dun good things.